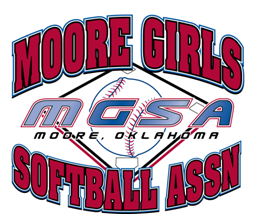 Want to play? Get in touch!
If you would like to join our league fall season, sign up or contact us to find out more information.
Email
sheilaski10@yahoo.com
crschlenker@hoymail.com
MGSA Spring Season:
USSSA  Sanctioned League 

 Week Spring Season (16 games)
$40 per player

USSSA Sanctioned Tournaments
Connect with us:
HOME
The Moore Girls Softball Association is an organization made up of volunteers from Moore, Oklahoma and surrounding communities that organize, support, and facilitate softball leagues for the young ladies of our communities. MGSA offers Fastpitch leagues ranging in ages from 4 to 18 years old.
Signups for Fall will be held 7/30 & 8/6 at the Moore Girls Softball Association Complex in our new office from 12pm to 3pm.
MGSA will be having Association meeting in the Fall. At this time residence of the City of Moore will have the opportunity to purchase memberships which entitles them the right to vote at coaches meeting. Coast of membership is $1 and must have proof of residence in Moore.